Dr. Mark Ward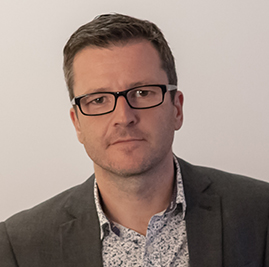 Dr. Mark Ward is a TILDA Research Fellow working on the Healthy and Positive Ageing Initiative (HaPAI) project.The HaPAI project is jointly funded by The Atlantic Philanthropies, the Department of Health, the Health Service Executive and Age Friendly Ireland.
Mark's PhD studies were funded by the Department of Children and Youth Affairs and were completed in 2014. His thesis consisted of a sociological quantitative analysis of socio-economic variation in childhood obesity. He also holds a BSc in Social Science from University College Dublin and a MSc in Applied Social Research, from Trinity College Dublin.
Prior to joining TILDA in 2016, was Assistant Professor in the Department of Sociology, Trinity College (2015-2016). He has also conducted research for a range of organisations including the Health Research Board, the Royal College of Surgeons in Ireland, Focus Ireland, and the Tobacco Free Research Institute. His main areas of research interest are social gerontology, children's research, socio-economic inequalities, and the application of quantitative methodologies in the social sciences.
For a full list of Dr Mark Ward's publications, please click here.