President Higgins honours SFI President of Ireland Future Research Leaders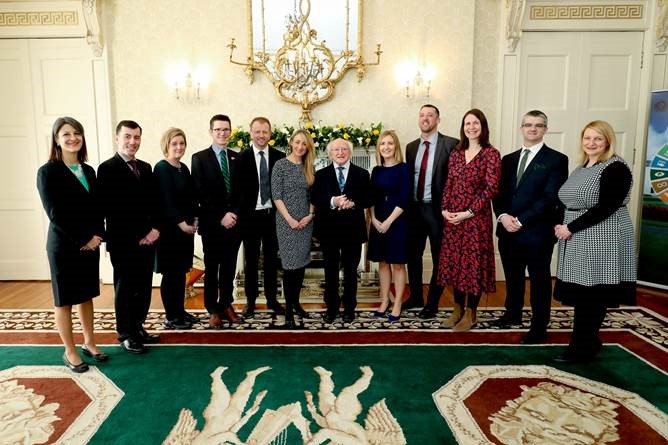 President of Ireland Michael D. Higgins, has honoured ten recipients of the SFI President of Ireland Future Research Leaders Award at a special ceremony in Áras an Uachtaráin, Dublin. The SFI President of Ireland Future Research Leaders Programme recruits and retains outstanding and emerging early career research leaders with exceptional accomplishments in scientific and engineering domains. The research areas awarded span human health in the areas of lung disease, ageing, traumatic brain injury, bowel and gastrointestinal diseases and sensors for prosthetics to environmental projects in the area of barley production and marine bioresources to understanding the impact of the Sun on the Earth using advanced data analytics.
Associate Professor Roman Romero-Ortuno received the award in support of his project - FRAILMatics: Mathematical research and big data analytics towards the development of the next generation of transdisciplinary diagnostics for the assessment of physiological vulnerability in older adults: challenge-based disruptive technology initiative
On receiving the prestigious award Associate Professor Roman Romero-Ortuno said: "I am delighted to have received this SFI President of Ireland Future Research Leaders award. This makes me immensely proud as an academic geriatrician and I thank SFI for recognising the crucial importance of investment in interdisciplinary Ageing Research. As a clinician scientist, this award will enable me to build the human and computational capability to investigate a highly complex issue that is of immense importance to our ageing society."
Summary: Increasing numbers of older people live with frailty. A frail person is vulnerable to complications from illnesses or medical procedures. Early recognition of frailty could prevent or delay poor outcomes, but diagnostics to recognise early frailty are limited. The Irish Longitudinal Study on Ageing (TILDA) has collected detailed information on participants' health by monitoring body systems, including under stress conditions. TILDA offers the opportunity to mine this unexplored "big data". We aim to discover new frailty signals/models, confirm them in real patients, and pave the way towards smart devices that could detect early frailty, helping achieve longer lives without disability.
Biography: Dr Romero-Ortuno (PhD 2011, TCD) is now an Assistant Professor in Medical Gerontology at TCD and a Consultant at St James's Hospital. He carried out his medical training in Barcelona before taking an MSc in social policy at the London School of Economics. He also has a music degree from the Conservatory of Barcelona. Dr Romero-Ortuno carried out postdoctoral medical training in Manchester and London before working in a number of Dublin's hospitals to complete his higher medical training. He spent four years at Addenbrooke's Hospital in Cambridge as a Consultant Geriatrician before returning to Dublin to take up his current post in 2018. His research contributions in the area of frailty have been recognised with the 2015 British Geriatrics Society Rising Star Award and the 2017 Count of Cartagena Award from the Royal National Academy of Medicine of Spain.
Award Value: €1,525,970
The full news story is available on the SFI website here.