Organisation
Scientific Advisory Board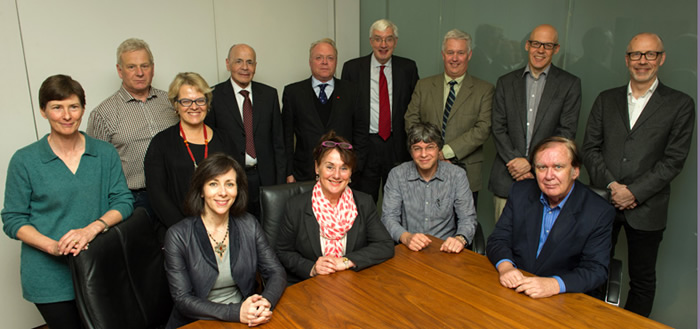 Professor of Economics, University of Manchester. Director, Centre for Economic Research on Ageing and Deputy Research Director, Institute for Fiscal Studies. Co-Principal Investigator, English Longitudinal Study of Ageing (ELSA).
Head of Department of Psychiatry, Vrije University VUmc and St. Buitenamstel Geestgronden. Director of Psychological Assessment, Longitudinal Ageing Study in Amsterdam (LASA).
Thomas D. Cabot Professor of Public Policy and of Epidemiology and Director, Harvard Center for Population and Development Studies, Harvard School of Public Health. Co-Investigator, Longitudinal Ageing Study in India (LASI) and Center for the Global Demography of Aging.
Director, Max Planck Institute for Social Law and Social Policy (formerly Mannheim Research Institute for the Economics of Ageing), Munich Center for Economics of Ageing, University of Mannheim. Principal Investigator, Survey of Health, Ageing and Retirement in Europe (SHARE).
Director, Institute of Public Health, Department of Public Health and Primary Care, Cambridge University. Principal Investigator, Cognitive Function and Ageing Study (CFAS) and Cambridge City over 75 Study (CC75C).
Robert Clarke is a Professor of Epidemiology and Public Health Medicine at the Clinical Trial Service Unit (CTSU), Nuffield Department of Population Health, University of Oxford and Consultant in Public Health Medicine and Director of the MSc course in Global Health Science.
Adjunct Professor and Professor Emeritus, Department of Sociology & Criminology and Law, University of Florida. Steering Committee member, Health and Retirement Study (HRS).
Associate Professor of Obstetrics/Gynecology and Medicine-Geriatrics, University of Chicago Medical Center. Director, Program in Integrative Sexual Medicine (PRISM) and the South Side Health and Vitality Studies (SSHVS).
President, British Geriatrics Society. Member of Mercer's Institute for Successful Ageing (MISA) International Advisory Group. Consultant Physician, Guys and St. Thomas' NHS Foundation Trust. Senior Research Fellow (visiting), King's College London.
Clinical Senior Lecturer, School of Medicine, Dentistry and Biomedical Sciences Institute for Health Sciences, Centre for Public Health, Queens University Belfast.
Professor of Sociology and Director, Cathy Marsh Centre for Census and Survey Research (CCSR), University of Manchester.
Professor of Epidemiology and Medicine and Director, Center for Aging and Population Health, University of Pittsburgh. Principal Investigator, Cardiovascular Health Study (CHS) & CDC Prevention Research Center.
Professor of Psychology and Director, Institute on Aging, University of Wisconsin-Madison. Director, MIDUS II (Midlife in the US) National Study.
Distinguished Chair, Labor Markets and Demographic Studies, RAND Corporation. Principal Investigator, New Immigrant Survey (NIS).
Director, Institute of Epidemiology and Health Care, Faculty of Population Health Sciences, University College London. Professor of Psychology, Epidemiology & Public Health, British Heart Foundation.
Research Professor, Survey Research Center, Institute for Social Research, University of Michigan. Director and Principal Investigator, Health and Retirement Study (HRS).
Professor of Economics, University of Strathclyde.
Professor of Medicine and Director, Centre for Public Health, Queens University Belfast.